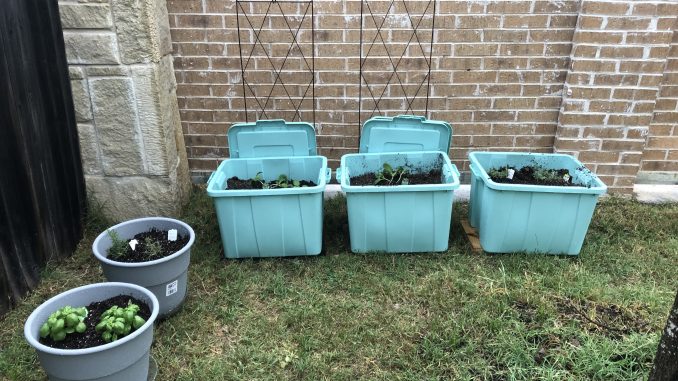 So I did a thing yesterday. I started a garden.
This might not appear to be that big of a deal, but I am known as a "serial plant killer." I am not sure where this adventure will lead me, but I am going to make an effort to see it through the season. There are no promises.
Why such a crazy idea?
For the past month, I have been receiving promptings to do a small garden. Given my history with plants and their inevitable deaths, this is is a pretty unrealistic proposition. Thus, I stuck these promptings away as something nice to do when I have more time and learn more about gardening. One day. I was not going to rule out the possibility entirely. Just push it aside as something that would be a "one-day" thing, not a right-now thing.
Sunday, I read several container gardening books. These were digital books that I could access through my Kindle Unlimited account. This is not my typical reading genere so I did not know where to start. I am grateful for unlimited access to digital books even if it does cost me $10 per month.
Reality: I needed to take action. I could change most things if they did not work out initially. A little trial and error so to speak. It should not be too painful, right?
Taking action
So yesterday, I took the plunge. It was spontaneous. Lance and I were walking into Kroger after his orthodontist appointment. My list included cheese and a couple of little things, your typical last-minute run into the store to pick up a few forgotten items.
And there they were by the front door taunting me…Little herb plants screaming "buy me." So we did. It was not my intention at all for this trip, but that nagging feeling came again, "Start a garden."
Then we went to Walmart to get soil and containers. And more plants…I mean, what good is buying herb plants if you do not have something to put them in when they grow? That was a logical step for me. Seemed an important and logical next step. I mean, I am certainly not an expert.
After a trip to another Wal-Mart with my boys (Kyle and Lance) to get even more dirt and a couple more individual pots…I had a small container garden. Modest. Humble. An effort expended.
The lids that came with the larger containers will come in handy later today for the smaller plants. We will have strong storms off and on today. Some of the plants are still little. I can just cover them until they get stronger.
What did I plant?
But we have hopes of harvesting…
Sweet Basil
Oregano
Rosemary
Lavender
Zucchini
Jalapeño
There is room to add a couple more plants in the future. I am looking for tomatillos in particular. It will likely not grow much past what we have already, but I am not ruling out anything at this point.
Where does this lead?
If we are being honest, I do not know where this gardening adventure will lead me. Instead of worrying about the "why" I have decided to focus on the "how" because I know that I need to follow the promptings when they come multiple times. This was repetitive and I do not know why, but I am going to work with what I do know – I am capable of learning new things.
I am truly grateful for my husband. He did not raise his eyebrow at the mission at hand. I am also grateful for Kyle and Lance who helped do the heavy lifting.
So I started a garden yesterday. Everyone, please pray for these little guys…they're going to need all the help they can get with me as their caretaker.